One Hour Consultation
Chiropractic Consulting Simplified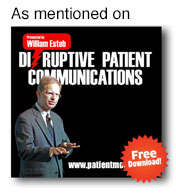 If you've made the rounds with the various chiropractic management groups, or have shunned them altogether, you might find this a better fit.
But first, two important distinctions:

Coaching - Typically a long-term relationship in which the client is buying accountability, making performance enhancements, forming new habits and expecting to be held accountable.

Consulting - Typically a short-term relationship in which the client is buying advice, experience, creativity, problem-solving skills and other insights they can bring to bear on their circumstances.

Just about everyone can benefit from a coach. I have one. Make sure you're not buying a coach when you really need a consultant!
When to Hire a Chiropractic Consultant
Call me for some ideas or at least a second opinion when you're…
Burned out and no longer having fun
Facing a major decision or turning point
Off your game or lost your mojo
Need some objectivity or fresh ideas
Ready to reinvent your report of findings
Feeling lost, disoriented or unsatisfied
It's wise to seek counsel at times like these. Pick the brain of a passionate chiropractic advocate who has been serving the profession for almost four decades and has seen just about everything.
An Alternative to Traditional Chiropractic Consulting
If you're looking for a grown up conversation without a long-term obligation or dependency relationship:
Email or call me at Patient Media (800) 486-2337 to arrange a mutually convenient time for our one-hour phone call.
You'll create the agenda and select the topics that we'll discuss.
At the appointed time, using a land line (or Skype), you'll call me at the appointed time. I'll collect your credit card details for $150 USD.
At the conclusion of our call I'll ask, "Did you get your money's worth?" If the answer is yes I'll charge your card. If the answer is no, then I won't. Fair?
Expect startling insights, new possibilities and a clear direction forward with fastidious confidentiality and discretion.
I've been doing this type of consulting for almost a decade. Usually, a single call is enough to get things moving. Some chiropractors choose to have a follow-up conversation a month or so later. Up to you.
Chiropractic Consulting Without a Long-Term Commitment
No contracts, other than the handshake above. If I were a chiropractor, it's what I'd want from a chiropractic consultant.

Email me and suggest some convenient days and times. And let's talk.
Looking for something deeper and perhaps more transformational? Consider enrolling in The Conversation, a 30-day program that produces a more profound shift.